TIMBCO, LLC is a full service timber procurement and timber management company serving North Carolina and Virginia.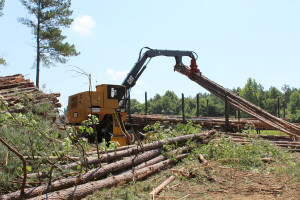 Our professional staff has the training and knowledge along with the experience to offer a variety of harvesting service to each landowner.  When we first look at a property, the landowner's short term and long term objectives are considered from the start. Our goal is to implement a harvest plan that is suited for each landowner. While keeping in mind that each property is unique and different management techniques are considered for each landowner's objective.
We offer a free inspection with no obligation to sell your timber with property containing 10 acres or more of timber.  We will either meet you on the property to discuss your timberland or discuss the property over the phone with you, depending on your preferred form of communication.
If we purchase your timber, we will provide you with your timber's tax basis at no charge and a forest management plan, if requested. Additionally, reforestation services are available if you would like your harvested property replanted.  For more information, please contact us.
Our Service Area
We purchase standing timber throughout Central North Carolina, Southside Virginia, and the Sandhills of North Carolina. Counties serviced but not limited to: Alamance, Anson, Bertie, Caswell, Chatham, Davidson, Durham, Edgecombe, Forsyth, Franklin, Granville, Guilford, Harnett, Halifax, Hertford, Johnston, Lee, Montgomery, Moore, Nash, Northhampton, Orange, Person, Randolph, Richmond, Rockingham, Stokes, Vance, Wake, Warren, and Wilson.
Southside Virginia Counties serviced but not limited to: Amelia, Appomattox, Brunswick, Campbell, Charlotte, Cumberland, Dinwiddie, Franklin, Greensville, Halifax, Lunenburg, Mecklenburg, Nottoway, Pittsylvania, Prince George, Prince Edward, Southampton, Surry, and Sussex.

Download .pdf of Timbco-service-area-map.