TIMBCO, LLC  was foun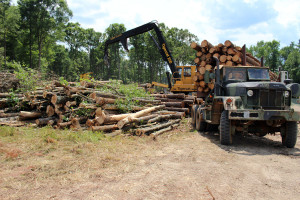 ded by Jason Wallace and Phillip Smith. Together we have over 40 years combined experience in the North Carolina/Virginia timber industry. We have four offices located in Morrisville, NC, South Boston, VA, Rocky Mount, NC, and Greensboro, NC. Meet our forestry experts.
TIMBCO, LLC is a full service timber procurement company that purchases standing timber and pulpwood throughout Central North Carolina, Southside Virginia, and the Sandhills of North Carolina. We provide a "hands on" approach during the process of harvesting a landowner's timber. From the initial landowner meeting to the purchasing of their timber to the reforestation of their harvested timberland; we're there every step of the way.
Our Goal is to offer each of our landowners a professional logging operation, a good profit for their timber, and a replant option to provide forests for the future.
Our diverse professional background and experience along with our extensive knowledge of the timber industry gives our landowners access to the best possible markets for their forest products. Our Foresters are Pro-Logger and/or Sharp Logger Certified, and we are members of the North Carolina and Virginia Forestry Associations.
TIMBCO, LLC has experienced and very knowledgeable NC & VA timber buyers that work throughout our area. We will evaluate the timber on your property and manage the harvesting of the timber to maximize return. We contract with local logging companies that are independent contractors. The logging companies we utilize are also Pro-Logger or Sharp Logger Certified. Each logging contractor has Workers Compensation and General Liability Insurance; both of which are required in order to harvest for our company. Our logging contractors deliver harvested timber to various mills within our service area to fulfill contracts that we have with these businesses.